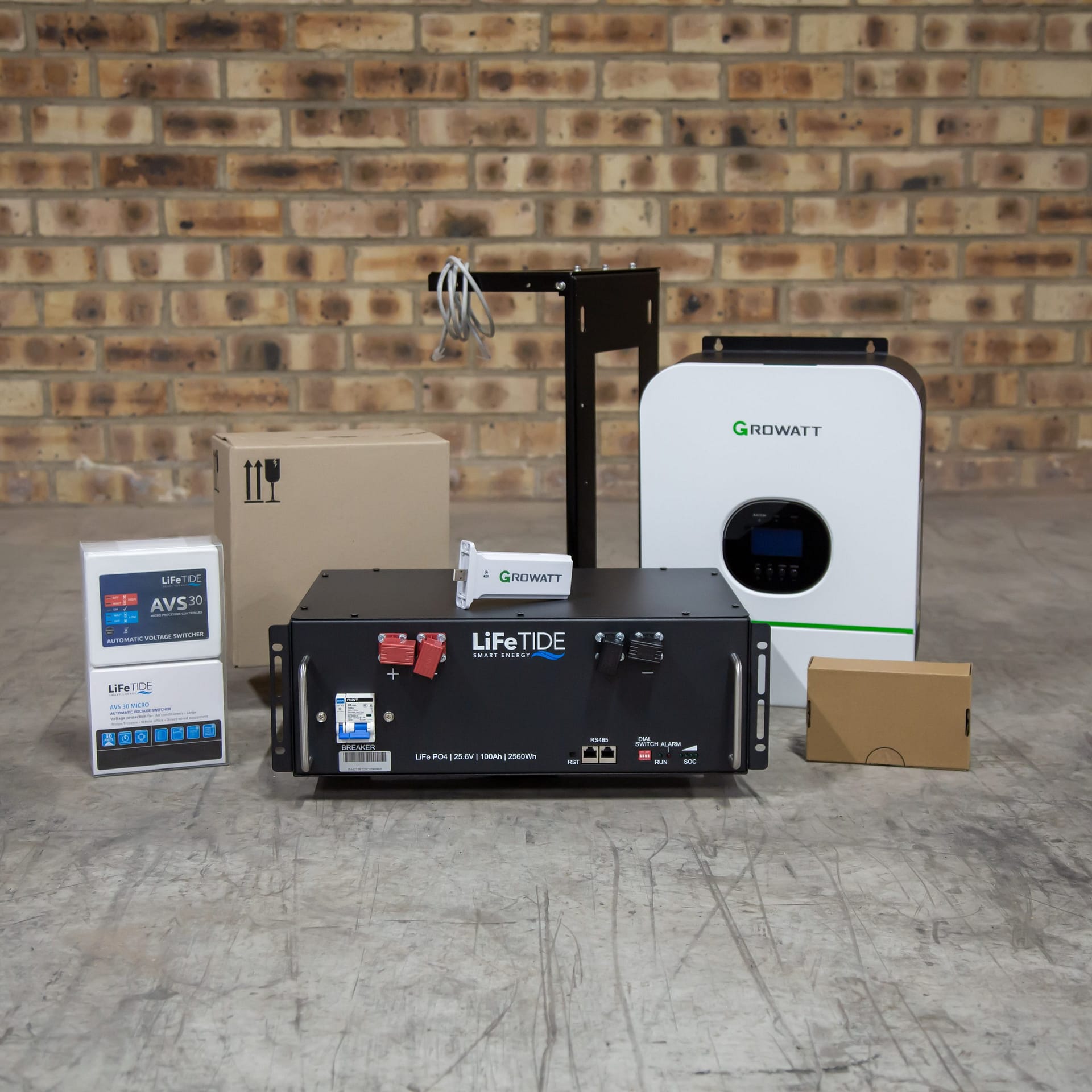 Everything you need when the power goes out:
INVERTER: Growatt SPF 5000 ES | 5Kw | 48V
BATTERY: LiFeTIDE LiFePO4 | 51.2V | 100Ah | 5120Wh
AC DB BOX: 5Kw Distribution Box
AVS: Automatic Voltage Protector 60A
DC CIRCUIT BREAKER: 125A | DC60V-80V
MOUNTING: 1-slot Wall Mounting Bracket
COMMUNICATIONS: Shine WiFi/GPRS (Optional)
Growatt SPF 5000 ES | 5KW | 48V |
– 5000W Rater Power
– 48V Voltage
– Pure Sine Wave Inverter
– 6000W Maximum Solar PV Array Power
– 100A Maximum Charge Current
– 450VDC Maximum MPPT Voltage
– 10ms – 20ms Transfer Time
– Off-Grid Inverter
LiFePO4 | 51.2V | 100Ah | 5120Wh
– Tier 1 A+ Cell Composition
– 7000 Cycles @ 80% DOD
– 99% Efficiency LiFePO4 16 Cell Pack
– Laser Welded Cell Poles
– Flexible Racking Options
– Longer Lasting: 15-20 Year Design Life
– Ultra Reliable Built-In BMS
– Built-In Fire Extinguishers
LiFeTIDE batteries are built using high-quality materials and advanced technology, ensuring maximum reliability and performance. It features a long cycle life of up to 7000 cycles, which means you can enjoy uninterrupted power supply for many years to come. The battery is also maintenance-free, which makes it easy to use and maintain.
Whether you need to power your essential appliances during a blackout or you want to reduce your reliance on the grid, this inverter kit is the perfect solution for all your power backup needs.
Overview
Category :

Load Shedding Kit
Advertisement