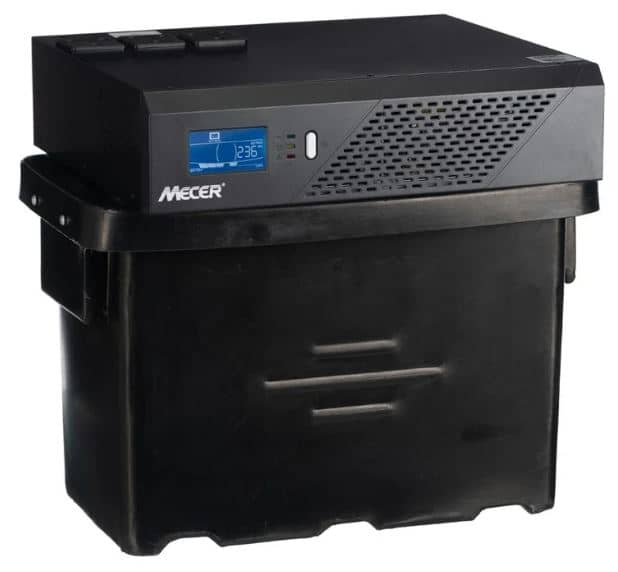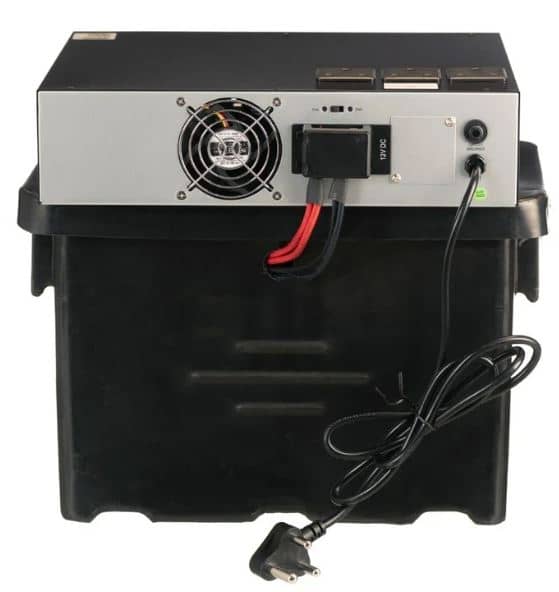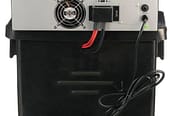 1200VA Mecer Inverter + 100AH LITHIUM Battery (6 HOUR BATTERY LIFE) KIT – 720W With LITHIUM Battery (+-3000 cycles)
Mecer Inverter 1200VA (720W) + 20A Charger

SIMILAR to INTELLIPOWER 2 or TESCOM 1000VA UNIT

Includes 1x 100Ah Battery + Battery Case

All cabling included
PLEASE NOTE: The 6-hour battery life is based on a 150W consumption. Typically, a TV, lamp, wifi router, and laptop connected.
Are you in the dark during load shedding?

Does your favourite program stop recording on your PVR?

Do you need to catch up work on your computer?

Does your phone run flat when you need it the most?
You need an inverter system. See below Frequently Asked Questions on how they work:
Q) What is an inverter system and what does it do do?
It is an inverter unit coupled with a battery which provides power when there is load shedding. It keeps its battery charged when there is Eskom power. As soon as Eskom power cuts, the system instantly transfers over to battery power so you can keep your lights, TV, computers (excluding Apple Mac Desktops only), chargers and wifi running during load shedding.
Q) Is it easy to connect up? Do I have to fiddle with electronics?
It is super easy The system is plug and play.
The inverter has a regular 3 pin plug that goes into the wall. You then have a 3 way multiplug on the inverter that allows you to connect any appliance you want. Keep the appliances connected at all times, the inverter will automatically switch to battery as soon as it detects Eskom power is down.
Q) How much backup time will I have on the unit before normal Eskom power come back on to recharge the battery?
Assume a computer, TV, and desk lamp are connected to the inverter:
This unit will last 4-5 hours
Only want a lamp, wifi router and laptop connected to the inverter:
This unit will last 8-10 hours
Q) What appliances can I run on the inverter system?
Our plug and play systems will run any appliance that has low power usage and does not have a motor. So you can run TVs, computers, wifi, lights, chargers, etc. 
Fridges, fans, heaters are not recommended to be connected to inverters. For those items, we can suggest a more specialised system – please click "contact us" and let us know your requirements.
Please note, this unit is considered as a 'large' UPS – it will not be able to charge a smaller UPS as it is modified sine wave
Q) What is the warranty/guarantee?
The entire system comes with a full 1 year warranty.
Kit Includes:
1x Mecer 1200VA, 720W, 12V DC-AC Inverter UPS (20A Charger)
1x Lithium LifePO4 100Ah 12V Battery
Plastic/Steel Battery Case
Cabling
Dimensions: 38cm height x 30cm depth x 42cm width (with plastic box)
100AH BATTERY INCLUDED
The batteries in this unit are designed for backup use only – not for daily SOLAR OFF-GRID charging/discharging
*NEW UNIT – quieter fan, fan turns off when batteries are fully charged.
*Owing to the weight of this item , there will be an additional R495 shipping charge
*Please note – depending on stock availability, cabinet design may vary slightly from the image
*PLEASE NOTE- If COLLECTION is selected, there is no additional charge, but unit will not come with pallet packaging for couriers
Here's how to maximize your inverter's battery life
● Please leave your inverter kit plugged in and turned on. It will keep your batteries at constant full charge – this is the best state to keep them in.
● If there is no load shedding, after a few weeks, the acid will start to sulphate on the top of the battery, so please do the following: Once every 1-2 months, please unplug the inverter from the wall and let it run until the inverter starts beeping, then immediately plug it back in. This will circulate the acid and will tremendously increase the cycle life of your batteries.
Please note:
White polystyrene is there to keep the batteries from moving around, it does not have to be removed and is 100% safe!
Overview
Category :

Load Shedding Kit
Advertisement